STOPWRAP­™ Urinal Cover
STOPWRAP™ Urinal Cover - Out-of-Order - Social Distancing
Social distancing at the urinals doesn't need to
look like this
Our 'Isolation Wrap' is a disposal urinal cover specifically designed for social distancing in the male washrooms and more.


The 23mu thin polyethylene material stretches over the urinal and naturally sticks to the sides of the bowl without the need for duct tape which leaves sticky residue and damages walls, panels and paintwork.


Supplied in a 100m roll, the message is repeated along its length in 600mm intervals - long enough to cover at least 100 urinals.


It is opaque white to cover the contents of the bowl for optimal appearance.


This inexpensive yet effective and attractive solution means that you can change which bowls are used and remove for cleaning and servicing.


The Isolation Wrap can be used on WCs, basins, hand dryers*, phone kiosks, seating and more.


The message is not specific to social distancing and so can be used for placing a urinal out-of-order long after COVID is a distant, bad memory.

If you are closing off urinals for social distancing, we recommend you change which urinals/basins are placed out of use so the traps do not dry up.

* Be sure if you are covering electrical items they are isolated from the power supply.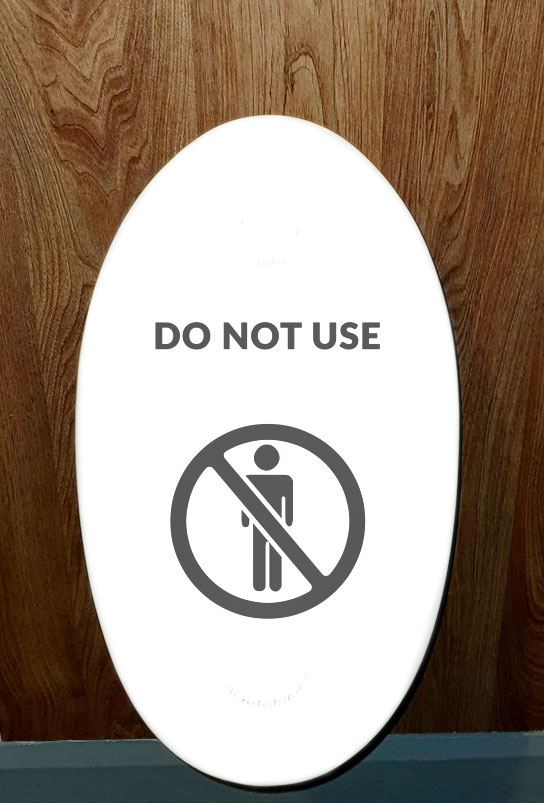 Stand aside Gentlemen !