Natural Oil Air Fresheners
Natural Oil Air Fresheners
Aromatherapy Air Freshener
The Aromatherapy Air Freshener from Aertek is an environmentally friendly air freshener that is highly effective at bringing a natural pleasant hygienic aroma to any washroom, changing area, waiting area or any other room that requires a lift in the air fragrance.

• Does not use any chemical or synthetic sprays or aerosols.

• Natural Oils are better for you and the environment.

• Suitable for people with asthma or allergies+

• Suitable for gyms and fitness suites or other areas of high respiratory activity due to absence of sprayed chemicals.

• Highly effective and long lasting.

• Because they do not use sprays, there is no 'lull' in fragrance experienced between sprays, just a consistent pleasant natural aroma.


Fragrances available:

Cinnamon
Bergamot
Lemon
Vanilla
Cherry
Mint
Phytocide
Jasmine
Lavender
Rose
Baby Powder
Summer Floral
Strawberry
Tropicana
Eucalyptus
Patchouli
Gardenia
Sandalwood
Cypress
Sensual
Relaxing
Stimulating
Refreshing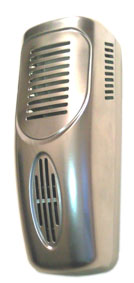 Not all fragrances may be in stock at all times.
Each fragrance refill can last up to 8 weeks, depending on room temperature.
They are normally changed by our operatives on a 6 weekly cycle.
All fragrances use natural oils.
+ Despite extensive testing and many years of use, we cannot guarantee that all fragrances will not produce an allergic reaction in all people. We are unaware of and have not ever experienced our air fresheners being blamed or suggested as the cause of any allergic reaction.